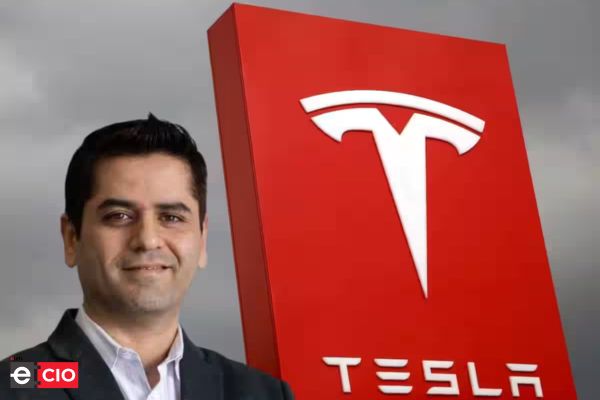 Vaibhav Taneja was chosen by Tesla to serve as its new CFO. The 45-year-old will assume the new position, also known as "Master of Coin," in addition to his function as Chief Accounting Officer (CAO) for the electric vehicle company. The previous CFO, Zachary Kirkhorn, resigned on Monday, and Vaibhav Taneja was named in his place.
Taneja's selection coincides with Elon Musk's Tesla's efforts to establish a presence in the Indian market. In Pune, the business just recently leased its first office space.

Vaibhav Taneja has more than 17 years of experience working for multinational corporations in the telecommunications, retail, and technology industries. Taneja's selection coincides with Elon Musk's Tesla's efforts to establish a presence in the Indian market.
The departure of Kirkhorn from the maker of electric vehicles has created a void and prompted inquiries about the organization's succession strategy. The move has raised questions about the management team in charge of the most valuable automaker in the world, even though the precise reasons for his departure are still unknown. This is especially noteworthy given that Elon Musk, the current CEO, also holds leadership positions at other significant businesses like SpaceX and X social media, which was formerly known as Twitter.
As CFO, Kirkhorn was frequently viewed as a calming influence, balancing out the more erratic Musk. He was a key player at Tesla, frequently speaking with analysts on conference calls and giving presentations on key projects and new products. Tesla accomplished notable milestones under Kirkhorn's leadership, including its first-ever quarterly profit following the successful introduction of the affordable Model 3 compact sedan. The company's market value also increased significantly during his leadership, surpassing the amazing $1 trillion mark.

Kirkhorn wrote on LinkedIn that he was proud of what Tesla had accomplished during his 13 years there. He said, "Being a part of this company is a special experience, and I'm extremely proud of the work we've done together since I joined over 13 years ago."
Since the departure of longtime executive Jerome Guillen, who was in charge of supervising the development of the company's semi-electric trucks, in 2021, Kirkhorn's departure represents the most significant change in Tesla's top management.
Also Read | Nykaa appoints Rajesh Uppalapati as CTO, P Ganesh as CFO
Zach Kirkhorn received a thank you note from Elon Musk for his many years of service to Tesla. Musk wrote, "I would like to thank Zach Kirkhorn for his many contributions to Tesla over the course of 13 sometimes challenging years," in a post on X. Best wishes for the next phase of his career and much appreciation."