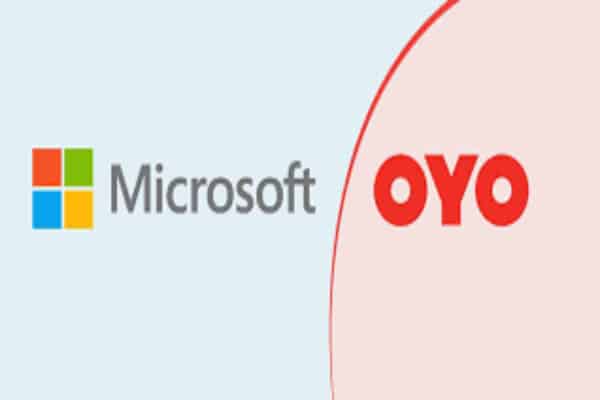 Microsoft, multinational technology corporation, has announced a multi- year strategic alliance with Oyo Hotels and Homes to co-develop 'next generation' travel and hospitality products and technologies.
Oyo will adopt Microsoft Azure as a "key enabler" to drive cloud-based innovations and the solutions will be geared to benefit patrons who operate small and medium hotel and home storefronts. Small and independent hotels and homeowners will have access to Oyo's latest technology to manage their guests' experience, increase revenue, and run operations with the "security" and "scalability" of Microsoft Azure.
Abhinav Sinha, global chief operating officer and chief product officer at Oyo Hotels & Homes said, the alliance with Microsoft will accelerate the deployment of its products, allowing it to create more impact through an integrated technology ecosystem available on the cloud for businesses in the remotest corners of the world.
"For our guests, this alliance will mean more personalisation, better choices, differentiated experiences and an improved guest experience in the future. Microsoft's commitment is further strengthened by the equity investment in the company," Sinha added.
Oyo said it will develop 'Smart Room' experiences for travellers on the Oyo platform, such as premium and customized in-room experiences for its guests.
"Combining the power of Azure with the tech and product stack developed by Oyo, we are looking forward to accelerating innovation in travel and hospitality," said Anant Maheshwari, president, Microsoft India. "It is inspiring to see how the Microsoft cloud is empowering digital natives like Oyo to accelerate industry transformation and innovations, turning the challenges of a post-pandemic era into opportunities for the future," he added.
Microsoft's Azure IoT, will be used which will include self check-in supported by a digital register of arrivals and departures and self-Know Your Customer(KYC) and IoT managed smart locks and virtual assistance..
Oyo said it will adopt the Microsoft 365 suite for better collaboration and productivity and will also begin to share existing workloads to Microsoft Azure besides switching to Github Enterprise for accelerating tech development in a 'secure' manner.