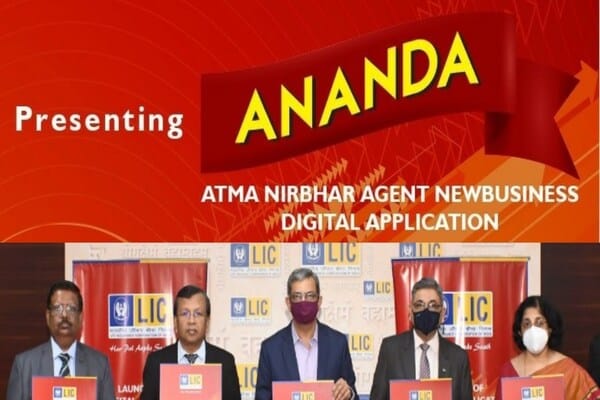 The state-owned insurance giant, Life Insurance Corporation of India (LIC) is set to upgrade and digitise its whole system, taking a step in the direction which will further eradicate their system, by introducing the 'ANANDA' -Atma Nirbhar Agents New Business Digital application designed for LIC agents only, The inauguration of Mobile app was done by M R Kumar, Chairperson, LIC of India through Video Conferencing.
It is the application where new policies can be issued and there is no requirement for the agent to go to the office and get the LIC policy.If the LIC agent has a laptop/computer they can easily log in new paper.As our India is on the way to be ATMA NIRBHAR in all counts . LIC has been preparing to make its LIC advisors Atma Nirbhar (Self Dependents).

The Managing Directors Mukesh Kumar Gupta, Raj Kumar, Siddhartha Mohanty, Mini Ipe and other senior officials of the Corporation were also present in the video conferencing. It is the paperless KYC process, E-authentication with the help of Aadhar of the life proposed.This digitisation through Ananda app aims at getting a paperless LIC policy with the help of agent/intermediary.
The launch created a lot of excitement and zest among the Marketing Officials and Intermediaries of LIC of India.
In his key-note address, the Chairperson of LIC of India remarked that 'the Launch of ANANDA Mobile App is a big day for LIC as the Organization has made a huge leap and today's launch is the result of a two-way process, wherein, the high level of usage of the ANANDA module has resulted into the development of the Mobile App'.
Also Read: Drip Capital names Anil Gopinath as as its new head of technology
The Chairperson further examined that though the future holds changes, the thing that does not change is the need for Insurance and LIC has been successful in creating that need among the Insuring public.
The address was concluded by placing the appreciation to the Teams of IT & New Business departments for developing this App.
The first Life Insurance policy under the ANANDA Mobile App was completed in the presence of the Chairperson by Mr. MerrylBaptista, a top-flier Agent under Mumbai Division III of Western Zone.