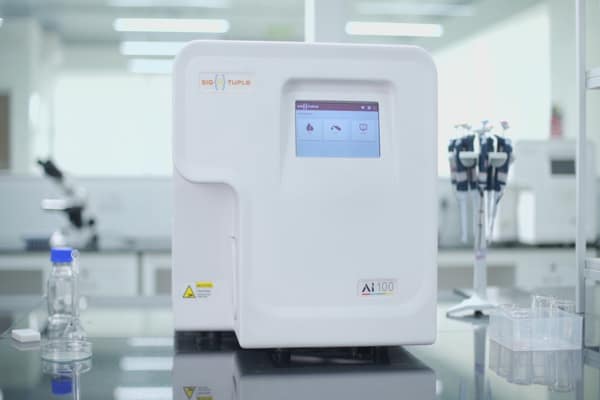 Healthtech startup SigTuple, has joined hands with Silicon Valley Bank (SVB) for the deployment of AI100, a smart Artificial Intelligence (AI) driven robotic microscope that digitizes manual microscopy processes, at a remote tribal hospital in Gudalur, TN.
This installation is likely to help over 50,000 people in the area – aiding in early detection of critical diseases like cancer, bacterial & viral infections, anemia, etc. and reducing turnaround time significantly, from around 48 hours to less than 15 mins.

SigTuple, combines artificial intelligence, robotics and data science to build smart screening solutions, to make healthcare accurate, accessible and affordable.
As with all manual processes, microscopy too can be time consuming, expensive and prone to error when done manually.
With this machine, biological samples can be digitized on a glass slide, which are then analyzed by cloud resident AI algorithms, enabling pathologists to work remotely, even on a mobile device. They can collaborate with other pathologists and get a second opinion on critical cases, within minutes.

Pranat Bhadani, President, Business Growth & Strategy, SigTuple said "Digitising microscopy has the potential to transform the way disease detection is done throughout the country. SigTuple is leveraging AI to automate the manual microscopy process. With our flagship product, AI100, a lab in a small town can avail the expertise of an experienced doctor in a metro with no sample shipment requirement. More accurate results can be obtained faster and at lower costs. This installation is the first of many that we have planned. We hope to work with corporations across different industries, to leverage their CSR budgets, to help us boost the medical infrastructure across the length and breadth of the country".
Based on AI100, SigTuple has also received the regulatory clearances to market its peripheral blood smear solution (Shonit) and the urine microscopy solution (Shrava) – the top 2 tests which need manual microscopy across most laboratories. SigTuple has raised over $40 million funding to date and is backed by Pi Ventures, Accel Partners, Chiratae Ventures, Flipkart Co-founder Binny Bansal, and Trusted Insights among others.