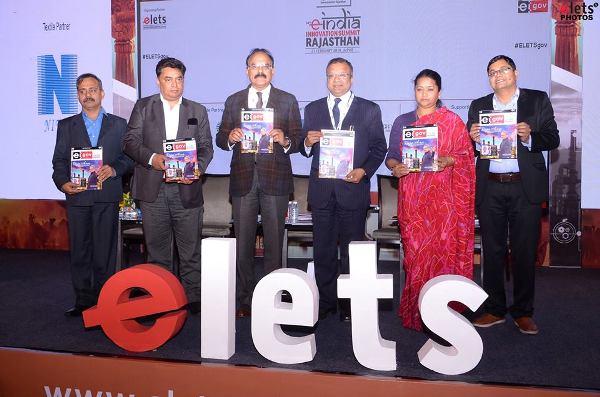 The Department of Industries, Government of Rajasthan in association with Elets Technomedia Pvt Ltd organised the '14th elndia Innovation Summit Rajasthan' on February 27 in Hotel Jaipur Marriott.
The objective of the Summit was to bring the key government officials from various departments of Rajasthan, industry experts, startups, entrepreneurs, global innovators, academia and the relevant stakeholders under one roof for deliberation on the holistic development of Rajasthan.

Today, Rajasthan is one of the finest growth platforms for innovations, entrepreneurs and industry. The Capital city – Jaipur is one of the top 10 cities in India for start-up investments. The State's policies are also well focused on promoting entrepreneurs and innovators like start-ups, MSMEs and the promotion of Knowledge economy including IT /ITeS.
"In the era of industrialization, the deployment of AI, IoT and ML into the manufacturing sector is helping in the growth of Industry" said Arvind Mayaram, Economic, Advisor to Chief Minister, Government of Rajasthan.
"The discussions and deliberations on the ease of doing business, investments & CSR, banking and finance for industrial development, strengthening local industries & MSMEs, urban, housing development & real estate, transport & infrastructure, PSUs for economic growth, IT innovations-based industries will definitely help in designing the new Industrial Policy of Rajasthan," said Dr Subodh Agarwal, Additional Chief Secretary, Industries & Public Enterprises, Government of Rajasthan. "We are bringing some major changes in the system and working on the new Industrial Policy," added Agarwal.
Shri Govind Sharma, Advisor to Chief Minister, Government of Rajasthan said, "The new Government in Rajasthan is planning a new industrial policy that focuses on attracting investments and generating employment simultaneously. Under the leadership of Chief Minister Ashok Gehlot, a new draft of the industrial policy is being prepared in Rajasthan."
Shri Alok, Principal Secretary, MSME, Government of Rajasthan said, "The Rajasthan Government's Department of MSME carries the mandate to promote MSMEs, artisans, handloom and service sector in the State. The major sectors in which the MSMEs of Rajasthan are primarily involved include textile, apparel, engineering, ceramics, marble and Kota stone processing, chemical, food processing and IT services amongst others."
"The new Industrial Policy of Rajasthan is committed to encourage investors with speedy and time bound approval processes, timely water and electricity supply, and effectively implement business reforms action plan. The policy envisions activating the single window system so that the works are done timely through online services," said Dr Krishna Kant Pathak, Commissioner Industries & Secretary, CSR, Government of Rajasthan.
Dr Ravi Gupta, CEO and Editor-in-Chief, Elets Technomedia Pvt Ltd, said, "eIndia Innovation Summit is one of the biggest summit of its kind in Rajasthan. EletsTechnomedia has been organising eIndia Summit across the nations for the last 14 years under the aegis of different state governments."