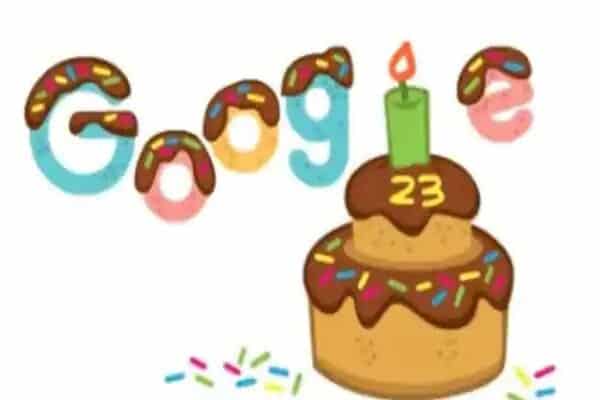 American multinational technology company Google is celebrating its 23rd birthday today and to celebrate the special day, Google introduced a special doodle on its homepage.
The doodle features a cake with '23' written on it. The L in Google has been substituted by a candle on the cake. In the last few years, from penguins to frogs, the tech giant has featured adorable animals to ring in the new year or celebrate events.

Google said that "one chance encounter" between two computer scientists changed the course of the Internet and the lives of millions.
Google said in a statement mentionedd."Every day, there are billions of searches on Google in more than 150 languages around the globe, and while much has changed from the early days of Google, from its first server housed in a cabinet built out of toy blocks to its servers now being housed in more than 20 data centres globally, its mission of making the world's information accessible to everyone remains the same,"
Taking to Twitter, Google India wrote, "Two computer science students just so happened to build a search engine in their dorm rooms in 1998.Today, we're blowing out 23 candles in our room."
In 1997, Sergey Brin, a graduate student at Stanford University, just so happened to be assigned to show Larry Page, who was considering Stanford for graduate school at the time, around campus. Then, in 1998, Google Inc. was officially born.