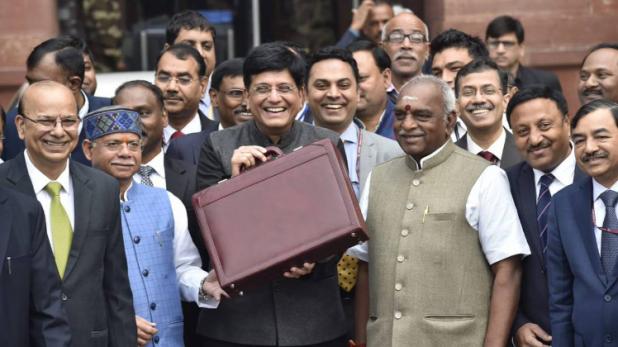 A national centre for Artificial Intelligence (AI) will soon be established, announced Piyush Goyal, Union Finance Minister, while presenting Interim Budget 2019.
"India has become the second largest startup hub of the world. We are proud of the hard work and innovative ideas of our youth in this sector. A national program on AI has been envisaged by the government. This should be catalysed by the national centre for artificial intelligence as a hub, along with other centres of excellence", Goyal said.
The Industry retaliated positively on the announcement here is a look at what some of them said.
Anil Valluri, President, India & SAARC Operations, NetApp
"The Government, in its Budget 2019 today has articulated a compelling vision for India, both for the medium and long term. It has provided direction, and a finite and ambitious goal for India, of becoming a USD 10 trillion economy by 2030. I look forward to the details and to the Government marking progress against it. For the short term, this is a budget that has something for everyone, but more particularly the middle class, the agricultural community and marginalized sections of society. The sense of inclusion, financial as well as welfare is welcome and much needed to build the force for a stronger nation that can march towards what I call Vision 2030."
Rajiv Bhalla, Managing Director, Barco India.
We laud the budget presented by Mr Piyush Goel today and believe it is a populist budget overall. Mr Piyush Goel announced 9 top dimensions to this budget and Make in India and Digital India were central to it. Expanding rural industrialisation using modern digital technologies to generate massive employment is the Fourth Dimension of the vision. This will be built upon the Make in India approach to developing grass-roots level clusters, structures and mechanisms encompassing the MSMEs, village industries and start-ups spread in every nook and corner of the country. India is now on the way to becoming a global manufacturing hub in various sectors including automobiles and electronics, defence and medical devices.
At Barco, we believe, building an ecosystem to spur local manufacturing is key for India's success and a steadily growing economy. Not only does it amplify job opportunities, but also gives a competitive edge to build products and solutions "In India, For India."
Aakrit Vaish, CEO and Co-Founder of Haptik
"With the announcement of National Artificial Intelligence portal, we expect India to be propelled on the path of leveraging advanced and disruptive technologies for economic prosperity and growth. We congratulate the government for this forward- looking budget"
Rajnish Kumar, CTO & co-founder, travel tech platform ixigo
"The new national scheme announced by the government on Artificial intelligence is a futuristic scheme which will promote the use of technology and digitisation. The government's efforts in providing the necessary AI support required by startups, further emphasises the role that new technologies will play in the development of the economy. Efforts to establish 1 lakh digital villages is also a positive step towards strengthening digital penetration in rural India and will significantly increase the adoption of digital platforms across the masses."
Snehashish Bhattacharjee, Global CEO, Denave.
"The budget gives much awaited technology push for the fast paced Indian economy. The CoE of Artificial Intelligence (AI) reaffirms government's intention and interest in pushing India to develop as hub of emerging technologies. It shall also prove to play a pivotal role in massification of ground-breaking technologies as well as providing headwind to the ongoing skill development and job creation agenda. It is a huge opportunity for the tech start-ups, and the contribution of India Inc. in the initial stages of implementation shall prove to be significant.
The budget overall is positive and covers the entire gamut of economic pillars in one go – farmers, youth, start-ups, women, middle-class segment, defence, green energy, industries etc. It promises to make social security accessible to the unorganised segment. The intent with which the budget has been designed will be best experienced with an effective execution.
Mayuresh Joshi (Fund Manager, Angel Broking).
"The stock markets closed positively amidst the volatile movements witnessed on the Interim Budget day. The broad messaging in the speech was aptly highlighted by the focus on rural India/middle class India along with the prudence reflected in staying put on the fiscal consolidation path. Though there was a minor deviance in terms of reported fiscal numbers for this financial year and the next, the focus in maintaining fiscal discipline without compromising on the long term goals as laid out in the Ten dimensions reflects the effective strategy of the government over the next decade. With the introduction of the Pradhan Mantri Kisan Sanmaan Nidhi scheme benefiting 12 crore farmers with an annual expenditure outlay of 75000 crs is expected to provide income sustenance to small and marginal farmers, effectively a large part of rural India. Also the benefits of exempting Incomes up-to Rs 5 Lacs shall increase disposable income in the hands of the salaried class. These moves are bound to drive consumption and discretionary spending across the spectrum and though in might happen in small proportions it still is the much needed trigger to boost the consumption patterns of both rural and urban India. The exemptions on second home notional income, the capital gains benefit for 2 houses and the allowance to realty companies to hold inventory for 2 years will be a boost. So, select Bankins, NBFC's/Housing Finance companies, consumption names and select cement companies shall derive long term benefits to come. "
Mayank Bhangadia, CEO & Co-Founder, Roposo.
"The government has delivered what it promised. The budget is, indeed, a huge relief for anyone and everyone. From farmers to startups, every person in India will benefit from this budget. It was really important to digitise rural India and show them the importance of Internet. The announcements of digitising 1 lakh digital villages in the next 5 years will prove to be just that. Tax exemption – the biggest announcement – is a massive relief for the middle class. Entrepreneurship is being promoted, which will clearly lead to jobs being created. The government has picked the pulse of job creation by boosting entrepreneurship, something which will most definitely lead to creation of jobs, especially for the youth. If that was not enough, the budget has taken care of unskilled laborers as well."
Sunil Jose, Senior Area Vice President and Country Leader, Salesforce India
"We are delighted to see the Government's focus on setting up a National Centre for Artificial Intelligence (AI) in order to bring the benefits of AI and related technologies to the common person. In a recent research commissioned by Salesforce, 65% of Indian respondents were positive about AI and its usage. Businesses using AI have the opportunity to amplify our human intelligence, better connect to consumers and impact societies like never before. We are delighted and welcome the government's visionary step to support and democratise access to AI and related technologies. This is equally important for businesses like Salesforce is the penetration of AI skills among the workforce. Globally, all eyes will continue to be on India and we look forward to being a part of this journey.
Mr. Sachin Dev Duggal, Founder & CEO, Engineer.ai
"Being a global entrepreneur highly invested in the technology industry, with a zeal for AI, it's excellent to hear the announcement from Finance Minister Piyush Goyal that India will create a National Centre for AI. Considering the global market for AI is expected at around $190 billion by 2025, this puts Indian companies and organizations at the forefront of capturing the AI market. Well done. Alongside a 2% interest subvention for loans to MSMEs, these actions can boost entrepreneurial development across India, which can continue to enhance the Indian economy. The idea of a strong, stable, entrepreneurial Indian economy will help retain and expand global investment capital, as well as increasing global operations across the country. Additionally, the idea of transforming 1 lakh digital villages can have numerous benefits. This includes creating and managing the IT infrastructure to make digital villages possible, and increasing education around technology, thus having the potential to expand the workforce (to operate said global operations). Overall, the technology sector made gains today, which offers India a bright future of the efficient solutions that technology could bring to the country, continent and world."
Sangita Reddy, Joint Managing Director, Apollo Hospitals Group.
"The interim budget threw light on the Government's dedication to a healthy India with a distress-free healthcare system. The budget mentioned the Government's aim to bridge the urban rural divide and provide benefits that people in a city have to those staying in villages. Healthcare should be a critical component of these efforts. We must not lose this opportunity to address the urban-rural imbalance in health infrastructure and ensure specific policies to encourage private sector to invest in the same. The announcement of a National Centre on Artificial Intelligence is also a big positive. AI today has great potential in transforming and designing new tools which will equip doctors in the fight against non-communicable diseases. At Apollo, we have already taken the first step with an Intelligent Platform designed to predict cardiovascular disease risk score for Indians."
Rohit Manglik, CEO, EduGorilla 
"This year's Budget lays down progressive measures which, if implemented well, will certainly take economy onto a higher trajectory. The Budget is notable for its roadmap for 2030 focusing on ten dimensions which are key growth drivers of the Indian economy. This year's Budget gives a reason for SMEs to cheer considering various incentives announced by government to propel their growth. Various tax benefits and thrust on 'Make in India' is a testimony to the government's intent of encouraging entrepreneurship; enabling India to emerge as the startup hub where "Job Seeker is now the Job Creator". The move to source at least 3% material from women-owned SMEs by Government enterprises will provide an impetus to women entrepreneurship. In the education sector, the government has already implemented various policy reforms. With emerging technologies such as Artificial Intelligence, Virtual Realty already making a significant impact in every sphere, the move to launch the National Artificial Intelligence Portal is a commendable one. The education sector will receive a boost with the focus on strengthening the digital infrastructure. It can be a game-changer in making education affordable and facilitate access to education among youth in every nook and corner of the country."
Sreeraman is Co-Founder of Agrahyah Technologies
A 'no harm budget' for both India and Bharat. With interest subvention for farmers and high rebates on income tax, this a well-balanced interim budget for both urban and rural Indians. The budget puts more money in the hands of people, a welcome move. With the election around the corner, the budget aims to focus on increasing consumption and expedite revival of an economy which faced headwinds from the previous initiatives such as DeMo, RERA, and GST. A revival of demand in real estate, auto, and consumer goods are obvious which also increases the number of loans disbursed by a bank, thus blowing tailwinds for all major sectors driving the consumer economy. India is leading in mobile data consumption in the world, coupled with increased connectivity and cheapest data plans, we can expect increased consumption not just in consumer goods, but also multimedia content consumption on mobile. With 1 lac villages poised to be transformed into Digital Village, it will be a windfall for digital payments, e-services, and content-driven companies.