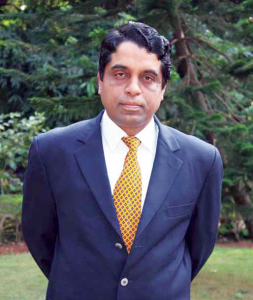 Madhusudan Padhi
Commissioner-Cum-Secretary, Department of
Information Technology, Government of Odisha
"The policies of the government must aim to enhance the quality of the government services being provided in rural and urban areas," says Madhusudan Padhi. In conversation with Ankush Kumar
The state of Odhisa has taken many new initiatives in the area of e-Governance. Please provide us with an overview.
Odisha has implemented the National e-Governance Programme (NeGP) with the help of Central Government. The main objective of this programme is to open at least one Common Service Centre (CSC) in every panchayat. These Common Service Centres are known as 'Jana Seva Kendra'. We have taken e-Governance initiatives in all the major departments. Every major department in the government is citizen centric. As the Elementary Education and State Project Director of Sarva Shiksha Abhiyan, I have been personallly involved in conceptualising the project of Child Tracking System. The Child Tracking System has made it possible to track the education of each and every child right from the age of 0-14. The data generated through this system is used in secondary and higher secondary education. It helped in tracking children who are not going to the school and hence bring them to the mainstream education.
What are the other e-Governance initiatives that you are taking care of?
I am also involved with the implementation of "Punarvaash" which is a project for rehabilitation and resettlement of people who were affected and displaced due to various developmental projects. I was also associated in higher education where we launched a Student Academic Management System (SAMS). It is an online admission process for colleges. Through SAMS all the transactions were processed online. Almost 2,000 colleges have been brought under the purview of this system. Now, I am involved in digitisation of ration card for Food Department. We are planning to have end to end computerisation in Public Distribution System. We have digitised the electoral rolls and we have in place a system to enable people to seamlessly discover the booth where they need to cast their vote.
---
School & Mass Education Department – e-Sishu 
Sarva Shiksha Abhiyan (SSA) of Government of India is an initiative to provide free and compulsory quality education up to age of 14.Odisha Primary Education Program Authority (OPEPA) launched the project e-Shishu to track both school going and out of school children of the state within the age group of 0-14 yrs and bring them back to the mainstream of schooling.
Project e-Shishu was conceived by OPEPAand implemented by OCAC in the year 2005. A database of 10.8 million children (0-14yrs) of the entire state was generated using Intelligent Character Recognition (ICR) Technology.Web-enabled application software was developed and enabled through the portal www.opepa.in.
---
There are various challenges in implementation of government projects and schemes at the grassroot levels. What steps are you taking to overcome such challenges?
There are certain initiatives that need to be taken to overcome all the challenges. For instance, we can enhance the system of Mid-day meal Scheme by creating a centralised system in each block for preparation of quality food and distribution within a radius of 20 kms. Once we have such a system, it will become easier to monitor the quality of foods. The system will also be helpful in easing the burden on the teachers who are currently responsible for managing the midday meal scheme. The teachers will be able to place more focus on teaching their students. You will agree that it is much easier to monitor 1,000 centralised food centres instead of managing midday meals in 50,000 schools. Our policy must aim to enhance the quality of the government services being provided in rural and urban areas. Quality management has to be the key. Today our schools are suffering because we do not have sufficient numbers of teachers. Government schemes can be implemented successfully only when there is proper planning involved in the system.
At times of natural disaster,we often see a communicationgap between the Centre and the State governments. In your opinion, how can ICT be used to improve the communication during natural disasters?
I don't think we are having the problem of communication gap during natural disasters. The centre and state administration is run by the same set of people as far as the bureaucracy is concerned. At the time of natural disaster what we really need is the ability to make good decisions quickly. People who have been affected must be provided relief very quickly. They need food, shelter, medical care, etc. The main problem is that we do not give much importance to learning from past mistakes. We have to learn from the mistakes that have been made in the handling of past natural disasters and make adequate changes in our national policy for disaster management. Today only seven or eight states in India have their own disaster management authority. We need to formulate it in the entire country. We can initiate plans only when we have such institutional mechanism. So it is necessary to have proper institutions like Disaster Rapid Action Force specifically trained to act in disaster.
---
"PDS Information System has brought transparency and accountability into the Public Distribution System"
---
How do you see the implementation of e-Governance in Odisha?
In the year 2004 the government came out with the Information Technology & ITeS Policy. The e-Governance roadmap of Odisha was released on 14th June 2006 by the Hon'ble Chief Minister, which comprise of governance vision, governance strategy and blueprint and capacity building road map. e-Governance projects change the status quo. So in my opinion change management is the biggest challenge in the implementation of e-Governance projects. There are also issues related to the decentralisation of power because when we bring transparency, we empower the citizens and other stakeholders. There is a sense of power depreciation which needs to be managed. So I believe that change management is a crucial area which needs to be managed effectively Another important challenge that we face has to do with the reengineering of government processes. If there are ten steps to be undertaken in a particular project, we must find a way of doing it in just three steps. The processes that are unnecessary should be weeded out. We need to look into such re-engineering of processes by making changes in existing policies and rules. We should have a clear vision, otherwise one will end up having high amount of inefficiency even after digitising the entire set of processes. Despite there being e-Governance, the citizens will not have access to better services. Finally capacity building in our entire service delivery system remains an important area which needs to be covered. Today we are asking people to perform online transactions who have never used computer. So it is necessary to first empower common people and create awareness among them regarding new technologies.