Cisco Systems and National Institute for Smart Government (NISG) co-hosted the 2nd Annual Public Sector Summit on Infrastructure for e-Governance at New Delhi on March 9-10, 2006. The theme of this year's summit was 'Connecting Government, Empowering Citizens'.  Over 120 delegates from across the country comprising senior officials from Department of IT (DIT), National Informatics Centre (NIC), National e-Governance Programme Management Unit, IT Secretaries, IT Directors, System Managers from state governments and various key agencies involved in the implementation of the National e-Governance Plan (NeGP) participated. Speakers from foreign countries included Andrew Thomson, Minister of Finance & Information Technology, Govt. of Saskatchewan, Canada; Lawrence Knafo, First Deputy Commissioner & Deputy CIO, City of New York; Jeff Kaplan, Founder & Director, Open ePolicy Group, Harvard University; Ho-Chuan-te Director, Executive Yuan, Taiwan; and Joan McCalla, Chief Strategist, Office of CIO, Canada.
The objectives of the summit included providing a framework for developing State-level infrastructure strategy that supports e-Governance roadmaps; presenting and discussing business models and technology options for top-priority ICT infrastructure issues; addressing key implementation challenges of State-level ICT infrastructure; sharing lessons from different jurisdictions inside and outside India to leverage best practices; providing an opportunity for feedback and discussion on the national e-Governance Roadmap blueprint; and exploring trends and issues on key ICT infrastructure issues such as Data-Centers, Storage and Wireless.
Brijesh Kumar, Secretary, Department of IT, Government of India (GoI) inaugurated the summit. Speaking on the occasion, Kumar highlighted the criticality of the suitably designed infrastructure in any e-Government project. He stressed that it was necessary to manage infrastructure efficiently as also the security issue related to the IT infrastructure.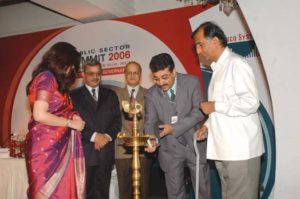 In his address, R. Chandrashekhar, Joint Secretary (e-Gov) DIT, explained about India's National e-Governance Plan (NeGP). He said that some 25 e-Governance projects in mission mode are to be launched shortly by the GoI. One of the 25 projects is that of MCA 21, which would enable companies to file returns electronically. Other projects include setting up of common service centers (CSCs) and assigning unique ID to below-poverty line families. Chandrashekhar also reiterated the Government's intention to bring a number of services online in a web-based mode.
J. Satyanarayana, CEO of NISG, also addressed the inaugural session of the summit. He expressed the hope that the Public Sector Summit 2006 would enable sharing of knowledge and experience of countries on the various facets of establishing a robust and scalable infrastructure for e-Government, which would go a long way in increasing the pace of implementation and realizing the goals of providing better public services in the country.
Welcoming the participants, Sudhir Narang, Sr. Vice President, Government & Service Provider Businesses, Cisco Systems, India & SAARC, informed that Cisco has been collaborating with Governments all over the world in their e-Governance efforts including India. He announced that Cisco has committed US$5mn to NeGP for setting up e-Government lab facilities in each State of India.
The inaugural session was followed by interesting sessions spread over two days, where the prominent practitioners and experts from across the world shared their knowledge and experiences in various areas such as that of connectivity and access solutions, infrastructure for information sharing and collaboration, infrastructure for content and applications, business models for supporting ICT infrastructure, governance and standards issues, and the role of the CIO.
Through presentations, the summit showcased innovative models that have raised the levels of connectivity and competence of national and international governments.
The summit also blended together workshops providing an opportunity for the delegates to have more in-depth discussions on specific issues related to the rollout
of State Wide Area Networks, e-Governance roadmaps, and the NeGP.
Summarising the summit, Satyanarayana remarked, "The summit has offered a platform for delegates to identify common challenges in implementing NeGP, prioritizing them and suggesting possible recommendations to Department of IT and state governments to address these challenges". Reflecting on the challenges to e-Governance as identified by participants in the workshop, Satyanarayana said that significantly the top challenges to e-Governance in India include last mile connectivity, availability of power, line of sight etc.; sustainability and maintenance of infrastructure created (SWAN, CSC etc.); lack of standards and architecture especially in information management; lack of content; backend computerisation of departments; lack of local language content; lack of awareness of what content is available; quality of content; needs assessment and community participation; issues in sharing infrastructure and information between departments; projects designed in silos; lack of suitable legal frameworks; and complexity of dealing with multiple government departments for private partner.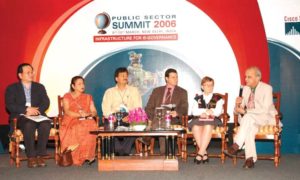 Recommendations to DIT included assistance to departments from concept to solution; drafting clear policy for last mile connectivity, bandwidth charges, content management, security policy, standards and architectures, information sharing, Central MMP on Data Digitisation; link rollout of CSCs to state e-Governance readiness to institutionalise them; providing exposure of e-Readiness reports among bureaucrats and politicians (through seminars, media etc.); and consolidating best practices for business models.
The summit concluded with a panel discussion. The panelists included R. Chandrashekhar, Jeff Kaplan, Ho Chuan-te, Joan McCalla and Zohra Chatterji, IT Secretary, U.P. The panelists deliberated on issues such as the role of regulator in e-Government, how to promote development of right content, e-Readiness and the role of CIO.
Kaplan elaborated on the concept of e-Governance to include integrated services for citizens. He said, "e-Governance is not about business, IT, but it is about changing how the government works, how citizens interact with the government. This requires a political commitment for change, specific measurable commitments from top government down to the various departments." Joan identified some of the CIO challenges and how to respond to them. Some of the challenges includes horizontal decision-making and funding models in a traditionally vertical organisation model, maintaining business and IT alignment at corporate and ministry level, demonstrating the value of IT in a tight fiscal environment, attracting and maintaining the necessary human resources, engaging leadership, ongoing communications, education, awareness and involvement of staff and stakeholder within and beyond the organisation. "Avoiding duplication of efforts, establishing and communicating a clear vision and action plan, building corporate directions, priorities and commitments into performance management plans and  pay for performance, annual results-based planning and new IT employee classification levels with increased compensation are some of the ways to respond to these challenges," Joan said. Chaterjee emphasized on the need of making people realise the need to have CIO, especially in India. One way to do it is to link state IT funds to CIO. She said,  "The pre-requisite to attracting these funds should be the implementation of  e-Governance".
Chuan-te presented an interesting definition of IT in Taiwan. He said that IT is 'India+Taiwan'. According to him, the government of Taiwan is encouraging its citizens to come to India to learn. He suggested that the third Public Sector Summit should have representation from the highest level of government, attended by the Prime Minister of India. This will give the required push to e-Governance.
Truly, the summit provided a platform for government leaders, decision-makers, policy designers and international experts to share, compare and learn from e-Governance best practices in India, Asia, and the World. The highlight of the summit was the interactive workshops where participants had a chance to express viewpoints on what are the barriers and its solutions to connectivity and access solutions, infrastructure for information sharing and collaboration, Infrastructure for content and applications, business models for supporting ICT infrastructure, governance and standards and the role of CIO.
When asked to comment on the summit, Dominic Scott, Principal Consultant, Public Sector- Asia Pacific, Cisco, informed that CISCO had organised the summit to provide a forum for central, state, governments and consultants to share ideas and international experiences. The uniqueness of the summit was the large workshop component that provided delegates to interact and debate on the national e-Governance programme. The summit concluded with the common resolution of
daring to dream.
Prachi Shirur